Simone Feresin, Roche Products, John Lee, Teacher Donahies Community School and Ava Battles, CEO MS Ireland at the launch of Understanding MS @Work
9 out of 10 people (90%) living with multiple sclerosis (MS) in Ireland say that the COVID-19 pandemic has helped, or could help, steer conversations with their employer about how working from home could benefit them in the long-term1. That's according to new research which was carried out by MS Ireland among its members ahead of the launch of Understanding MS@Work, a dedicated online employment resource for those living with MS and their employers.
The research found that 80% of people with MS say the way they work has changed as a result of the pandemic, while almost two-thirds (64%) of those surveyed say that working from home has benefitted them over the past 18 months1. Although the majority of respondents (85%) say that their employer knows they are living with MS, more than one-fifth (21%) of respondents cited 'lack of understanding / empathy' as the issue that most impacts their working life1.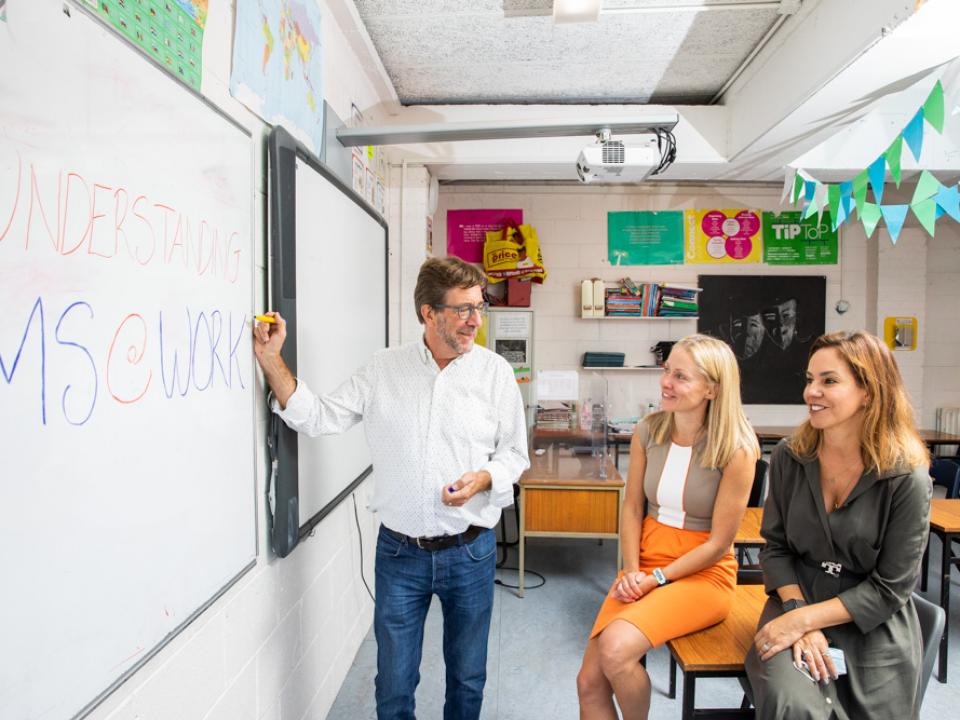 MS is the most common disabling neurological disease of young adults in Ireland, and affects the motor, sensory and cognitive functioning of the body2. Symptoms of MS include impaired mobility and vision, severe fatigue and cognitive difficulties2 which can have a huge impact on an individual's work and family life2.
Understanding MS@Work, which is supported by Roche Products (Ireland) Ltd., aims to encourage and enable people living with MS to have beneficial conversations with their employers about their working environment. Videos of people with MS talking about their careers and their conversations with employers have been created along with advice on working during the pandemic. Sections have also been developed for employers so that they can become more informed and aware of the potential challenges faced by people living with MS and emphasize the benefits of providing a flexible work environment for employees with MS and other chronic conditions. 
Launching the new resource, Ava Battles, Chief Executive, MS Ireland said, "Navigating the workplace can be incredibly frustrating for many people living with MS in Ireland. Our experience has shown that MS is often misunderstood, and many Irish employers may be unfamiliar with the condition. This resource seeks to inform employers about the small steps they can take to ensure their work environment is better set-up to accommodate people living with MS and other chronic conditions. We know that living with MS can be difficult without having to campaign for appropriate work environments, so we are proud to provide a resource that can do that on their behalf."
Simone Feresin, Patient Journey Partner, Roche Products (Ireland) Ltd. said, "Working life can be stressful for everyone, particular since the COVID-19 pandemic challenged the way many of us work and led to new ways of working for so many. Understanding MS@Work aims to provide information and real life examples of flexible working environments so that people with MS and their employees can feel empowered to have important conversations which will benefit everyone in the long term."
For more information about MS and to learn more about working with MS visit Understanding MS@Work here: https://www.ms-society.ie/understanding-ms-work