When I was diagnosed with MS 28 years ago the MS READaTHON was in its fourth year in Ireland. Children all over the country were asked to find sponsors for every book they read, and the money they raised was to help people like me. At that time there was no therapy for MS, we just had to live with it, perhaps getting IV steroids during a flare. 
32 years since this fundraising event started there have been so many advancements in how we treat this illness, with several Disease Modifying Therapies (DMT's) now available. The understanding of the causes of this illness is growing, and research is exploring alternative medicines to treat the underlying cause, and also new therapies are being developed to help our mental health, cognition, and mobility. So much progress.
One of the reasons for this improvement in how we manage this illness is because of events like the READaTHON. Not only does it raise much needed money for research but also for our care. The respite home operated by the Society, and the regional offices all depend on fundraising. These services have helped me walk better, understand my illness and connect with many other people in Ireland who have this, as yet, incurable disease.
The READaTHON also does something else. It raises awareness of MS. Children throughout Ireland will be told about Multiple Sclerosis and these developing brains will be curious.
What is MS?

Where does it come from?

Can I get it?
Many questions will be rained on teachers, and the answers will pass to the parents, and so the message passes from one generation to the older generation. Building awareness.
Along with this awareness will come some understanding, perhaps, of the invisible symptoms, like fatigue, cognitive issues and the mental health implications on our community. As every decade passes more people will have heard of MS because of this fundraising event. This is powerful, as these students will be the researchers, doctors, journalists and parents of the future. This understanding should also help remove the stigma which comes with disability. They will learn to see our abilities instead.
The pandemic has affected the MS community. Delayed therapies, increased social isolation, anxiety, stress and depression are all negative affects. The health crisis has increased the availability of online therapies, and has given those of us living away from the major centres access to treatments, like physiotherapy, which were inaccessible before it reared its ugly head. These readers could help remove these negatives and enhance the positives.
Reading is what the event is all about, from the very young just starting on their reading journey, to older people like me, who enjoy the written word. The joy of books is how they help stimulate imagination. The words on the page are like small nudges, pushing us to create images and situations. The writers refrain from being overly descriptive, allowing the blossoming brains to find their own reality. Every book which is read creates different images in each brain. My Gandalf is nothing like the one portrayed in the movies, he is Peter Jackson's Gandalf.
My hope is this creativity, fertilised by reading, will find new ways of thinking about illnesses like MS. New therapies, treatments and a more inclusive mind-set will emerge along with the much-needed money for the Society to continue giving the support to my tribe of people with MS. 
These are my hopes for the 2020 MS READaTHON.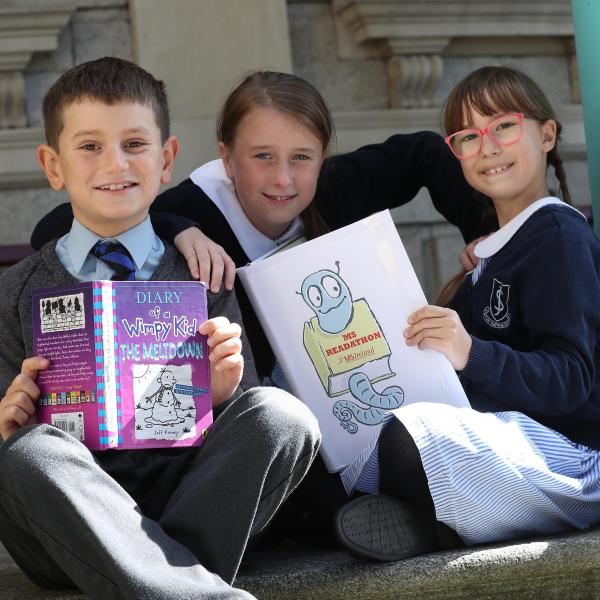 Register Your Interest Today
If you, your school or your friends and family want to take part in this year's MS READaTHON, you can register your interest today!
Click the link below to register now!
Happy Reading!