My own drive for continuing education led me to the MS Neurology Academy Foundation Masterclass in the UK last year. This hybrid-programme brought together health care professionals from across a range of disciplines, all with a collective interest in multiple sclerosis. The first weekend in December 2021, I boarded a plane (for the first time in nearly 2 years!) and headed for Sheffield where I presented my end of programme project on 'Navigating MS Through The World of Social Media – Steering Away From Dr. Google'.  I left Sheffield that weekend full of new knowledge, new connections and a win for Ireland with 'Best Poster Presentation'!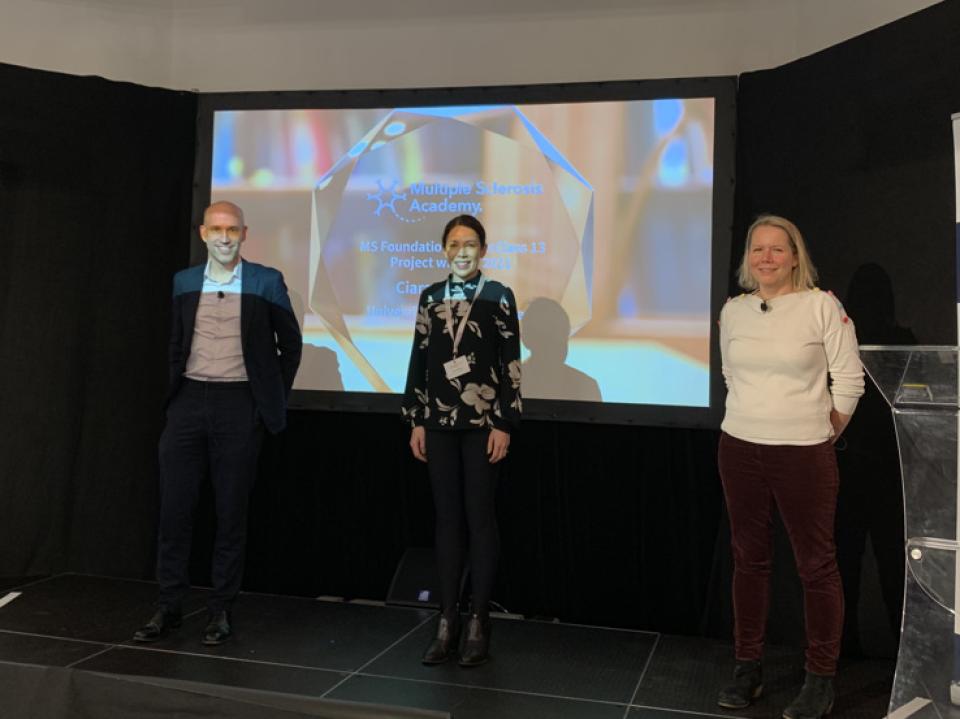 I wanted to do a project for this course that benefited both patients and health care professionals and the use of social media was perfect. Multiple Sclerosis is the most common condition of the central nervous system affecting young adults, with diagnosis primarily occurring within the 20-30 age bracket. Yet despite the young age of onset, we continue to be educated and supported on initial diagnosis through archaic methods.
Diagnosis is often followed with a bundle of pharmaceutical specific literature on disease modifying therapies, full of technological jargon. We find ourselves in the era of Millennials, Generation Z and advanced technology; the increased use of social media has a huge part to play in the education and support of those newly diagnosed with MS. Healthcare professionals have a significant role to play in supporting the productive use of social media and in supporting the navigation of this disease through valid online resources.
But here is where the gap lies – health care professionals have very little knowledge on what online resources are reputable and available to direct their patients towards. The development and use of a valid social media resource tool will empower patients in their understanding and management of this disease through reputable and valid online outlets and encourage a move away from the unreliability, misinformation and subsequent fear associated with a 'Dr. Google' search. And let's be honest – we have all visited Dr. Google at some stage of our journey!
 Through the use of focus groups, personal experience, patient perspectives and MS Clinical Nurse Specialist feedback, I developed a resource sheet of informative and supportive online outlets with links to all available channels; websites, Instagram, Facebook, Twitter & YouTube.
It is undeniable that the Internet is now a much valued and important source of information for those diagnosed with MS and this continues throughout the disease trajectory. As healthcare professionals, within our remit of education and advocacy, we must ensure that the right outlets and social media channels are being promoted.
Diagnosis can often be a lonely experience. Supporting the use of online outlets facilitates increased social support, interaction with others and sharing of lived experiences. Research to date has supported the use of social media in patient empowerment, a reduction in depression and increased engagement. The use of such a resource will undoubtedly improve patient outcomes, support the management and education of patients and effectively adapt to the needs of an illness evolving within the digital era.
My hope is that the use of this resource tool makes navigating the world of MS more accessible for everyone – for those diagnosed, for their families, caregivers and friends and also for healthcare professionals.
I am already looking forward to my next neurology appointment where I will arrive with my resource tool in hand and continue asking "But Why?", "But Why Not?".