MS Ireland Online Classes Annie
Due to the impact of COVID-19  we had to change the way we do things and adapt some of our services by moving them online. Annie is living with MS and avails of MS Ireland's services, here she tells how she adapted to our new way of doing things, and the benefits of taking part in our online classes.
I've been doing yoga on and off most of my life. I went to my first class with my mother when I was 17 and I'm 56 now so it has been quite a long time. I first developed MS symptoms in my thirties and used restorative yoga to help with fatigue and nausea. Restorative yoga involves holding resting poses for around 5 minutes and really relaxing into the pose.
More recently (pre Covid) I'd been going to a local "normal" yoga class. I usually took a spot in the corner so I could use the walls for support and to help with balance.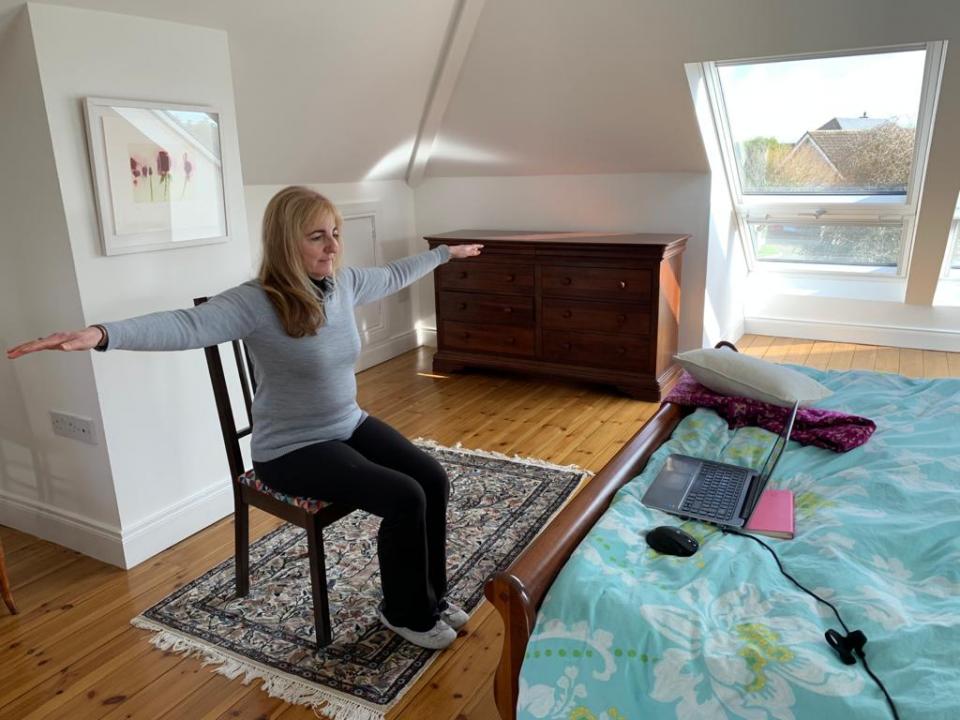 Last  April I was experiencing quite a lot of fatigue, headaches and nausea along with cramping in my right leg. So when the MS society offered on-line chair yoga classes it couldn't have come at a better time. Chair yoga is like normal yoga except you don't have to get down on the floor. It's gentle and relaxing but at the same time, it strengthens your body and gives it a good stretch.
As part of the class there is a meditation which I found very relaxing. Our teacher guides you through the meditation. She has a lovely calm tone, so much so, it can be a struggle to stay awake! 
After the class I find I have a lot more energy, it's like you get a little gift pack of energy and serenity.
The facilitator is very friendly and professional. She always gave alternatives to the exercises if you can't manage the full pose. In fact if you're very low in energy she suggests you just join in the breathing and don't actually do the movements.
There is quite a little community of us doing the classes and we have a chat before and after the class. It's so nice having that contact during Covid.
I've recently started an online yoga teacher training course, and I'd love to teach chair yoga one day. I won't be standing on my head any time soon but there is so much you can do with limited physical capability and so many benefits to be had.
I once asked a yoga teacher how often you should do yoga and her reply was, how often do you want to feel good. So if you're interested in trying the MS society chair yoga classes, I'd really encourage you to do so.