Virtual Balloon Race 2021

here we go again!
One event that we are absolutely thrilled to bring back is our Virtual Balloon Race!
Who can forget the exciting dramatic finish in 2020, as we finally reached our target of 9,000 Virtual Balloons, 1 for each of the 9,000 people in Ireland living with MS! 
We were completely blown away by the support of the entire MS Community who helped spread the word by encouraging friends, family and colleagues to get involved and ensure that we met our target of 9,000. 
Not only did your support mean we had an exciting finish to our World MS Day event, but your help ensured that we were able to continue provide support and services to our community at a time that they needed them most.
Our goal is the same, 9,000 Virtual balloons, 1 for each of the 9,000 inspirational people in Ireland living with MS.
With you support, we can make World MS Day 2021 (May 30th) another day to remember.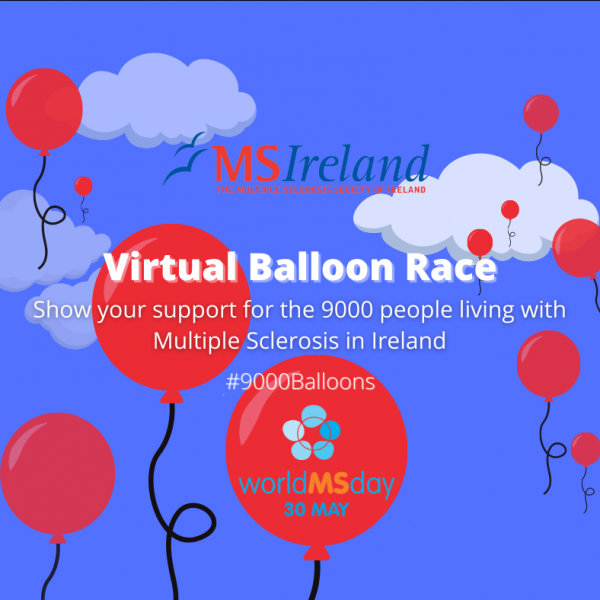 Race a balloon for €5.00 & support 9,000 people living with MS in Ireland.
The balloons will be virtually launched at our Care Centre in Bushy Park on Sunday, 30th May at 9pm.
about the race
The race starts at 9pm on Sunday 30th May 2021 and finishes at 9pm on Sunday 6th June 2021.
Unlike a traditional balloon race – where the balloon can cause harm to wildlife and where helium is used - MS Ireland's Balloon race is 100% environmentally friendly. There is no actual balloon, no string, no label, no helium gas. But, it's just as unpredictable – like a real race. 
A balloon costs just €5 and you can decorate your virtual balloon and get competitive with family & friends as it races virtually over 7 days.  The balloon that flies the furthest over the 7 day race period will win a €500 voucher for Ireland's Blue Book.
 
If you bought a balloon in last year's race, the website will remember you and there is no need for you to set up a new account – you can just log straight in (providing either you or your computer remembers the log-in password).
However, if you're like me and you forget passwords as soon as you've created them, you'll have to re-set your password.
Simply head to this link https://msi.rentaballoonrace.com/user/recovery, enter the email address you used last year and a new temporary password will be sent to you, you can then re-set it and proceed to buying balloons.
Get in Touch
Contact Sally for further details sallys@ms-society.ie or call 01 6781624